The ABCs of Replacing a Worried Mind with a Peaceful Mind
I remember I couldn't wait for each of my teenage sons to get their license. More freedom for all of us! But at the same time, I had a new arena to worry about. Could they navigate roads with friends in the car? Would they have the self-discipline not to respond to the ding of their phones while driving? And could they even get anywhere without looking at the phone's GPS which they'd have to use while they were driving?
Haven't we all dealt with racing anxious, worried, fearful thoughts, whether over our kids' safety or some other fear that worms its way in?
We want the opposite of a worried mind— we want peaceful minds.
Is there a way to have a peaceful mind when there's so much to worry about! Yes! How do I know? Because Scripture tells us we can.
Let's look at the ABCs of having a peaceful mind by following the guidelines in Philippians 4:4-8.
A – Align our thoughts with God's thoughts
To align our thoughts with God's means we come into agreement with God's thoughts, and we find those in His Word.
Let's look at Philippians 4:6,7 to see what else we learn about aligning with God's thoughts:
"Do not be anxious about anything, but in everything by prayer and pleading with thanksgiving let your requests be made known to God. And the peace of God, which surpasses all comprehension, will guard your hearts and minds in Christ Jesus."
To align our thoughts with God's, we pray about our concerns, we thank Him, and then we will be protected from anxious thoughts. Scripture tells us then we will be filled with peace.
B – Beware of dangers
I grew up in Florida where I swam in the ocean more Saturdays than not. When you live near the ocean, you learn at an early age to beware rip tides, currents of water that move directly away from shore. These currents are strong and swift, and swimmers can quickly get swept out further in the ocean, often resulting in panic.
These rip tides paint a picture of our out-of-control anxious thoughts. Our thoughts can be swept away to fear and worry, sometimes before we even know what's happening.
So as we learn to align our minds with Christ's mind, we also need to become aware of our personal dangerous rip tides.
I need to ask myself, What draws my mind away from a godly, peaceful mindset? And what do I need to do to avoid these dangers?
For some of us, social media can be a dangerous place for our minds. We may find ourselves envious, comparing, and critical of ourselves and others, all of which rob us of peace. For me, I have a hard time watching the news. It just agitates me and freaks me out!
Maybe certain people are gossipy, negative, critical, complaining. Maybe these are people you need to limit your time with— or avoid completely.
Remember that word "guarded" in the Scripture verse above. We are guarding ourselves when we become aware of our own riptides and choose to avoid them.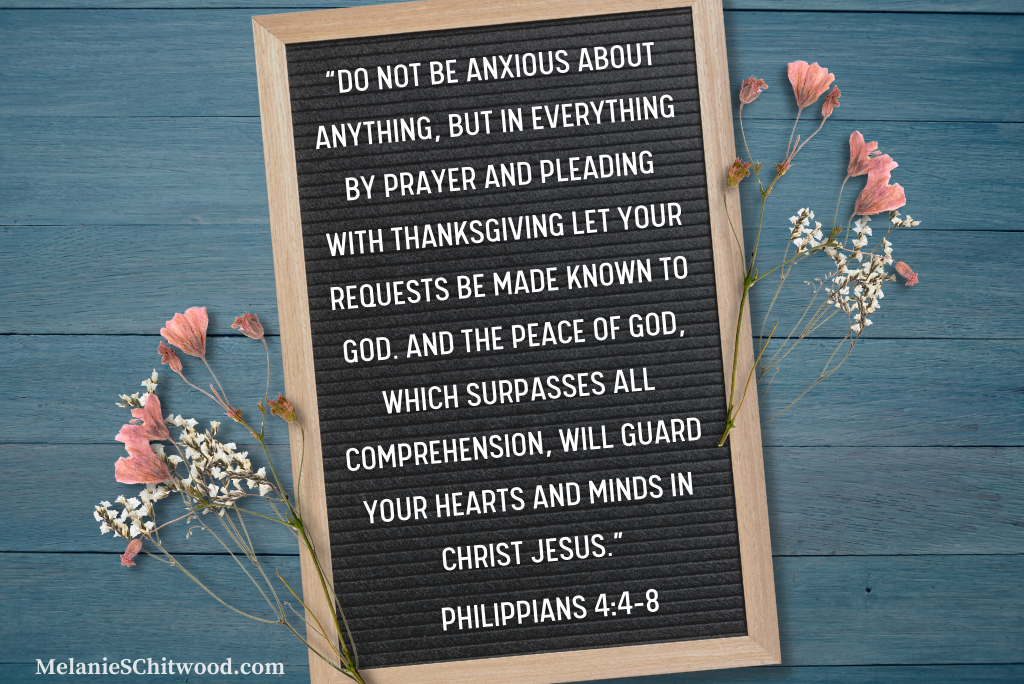 C – Choose your thoughts
We are not powerless when it comes to our thoughts. We can make conscious choices to think about certain things and not to think about other things.
Maybe we've gotten in the habit of worrying, fretting, or being anxious. It's a habit we can break, but it will take work.
Look at what Phlippians 4:8 says to fill our minds with: "Finally, brothers and sisters, whatever is true, whatever is honorable, whatever is right, whatever is pure, whatever is lovely, whatever is commendable, if there is any excellence and if anything worthy of praise, think about these things."
That's a long list! But a great checklist.
You might want to write out that verse on paper or make a note in your phone. When you feel worry taking over, pull out that verse and choose to think on one of the things listed.
As you practice these ABCs, you will find your anxious mind can become a peaceful mind, even in the middle of hard things.
I've included a few more verses you might want to read and meditate on this week.
John 16:33, "'These things I have spoken to you so that in Me you may have peace. In the world you have tribulation, but take courage; I have overcome the world.'" (NASB)
Romans 8:6, "For the mind set on the flesh is death, but the mind set on the Spirit is life and peace…" (NASB)
Colossians 3:2, "Set your minds on things that are above, not on things that are on earth."
~ Melanie