When Spiritual Attack Makes You Feel Like Quitting
Last week I blogged about spiritual attack (click here) And this week my mind continues to camp out on this topic from a somewhat different angle.
Spiritual attack means Christian writers and speakers are warriors in a battle–always. I've read and heard recently in the Christian and secular world about women being strong warriors. I appreciate these thoughts. I do. But can I just tell you something?
Sometimes all I can think is, I'm not strong, and I don't know if I can be. Sometimes I don't feel like a warrior. I just feel weak.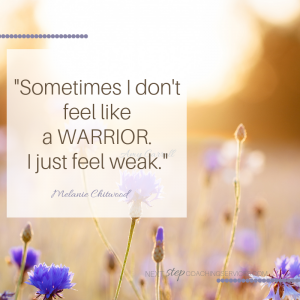 And I think we writers and speakers are all are familiar with where these feelings might lead: quitting our dream, passion, or purpose; giving up because it's too hard; putting the dream on the back burner for a bit and continuing to trudge along on a less treacherous path.
As I journaled about this, I sensed the Spirit giving me this thought: Melanie, you don't have to be strong because I AM.
Wow! Does anyone else need to hear that? I can't even tell you how much relief that gave me. And honestly, it made me cry.
So, let God be strong in you. He is the great I AM!
In Exodus 3:14, God speaks to Moses about his fears by responding,"'I AM WHO I AM.'" And continues in verse 15, "'This is My name forever, and this is My memorial-name to all generations."
So, carry on, sweet sisters, in God's strength. I know you'll get weary sometimes, you'll question what you're doing, and you'll feel like quitting.
Take a pause, maybe a break to refresh. Then pray for God to be your I AM, and don't let the enemy deter you from your purpose of glorifying Him.
~ Melanie
———————————————–
We want to share two ways my partner Amy Carroll, the director and speaker coach of Next Step Coaching Services, and I, the writing coaching and editor, can be a benefit to your ministry.
First, we want to be your partners! We know how hard and lonely ministry can be when you're trying to do it alone. No one should have to do that!
Secondly, we pray for each client–and continue to pray for you after the job is completed.
On our home page under the coaching tab (click here) you'll find a sampling of our services. We'd love to have a free conference call about your needs (click here).