What to Do about Spiritual Attack
Why didn't someone tell me how awful this is?! I despaired a few months into serving with a Christian ministry. I knew about spiritual attack, but I had never encountered such intense spiritual warfare.
I'm sure someone did warn me—but when we step out for God in a new way, we may find ourselves reeling from the increased heat of the battle.
Let's look at some crucial truths about spiritual warfare.
Know spiritual warfare is real
Have you ever found yourself thinking something like, I'm just having a bad day, or I'm just stressed out. I'm making too big of a deal about this spiritual attack stuff?
No, you're not making too big of a deal about evil. The enemy is real, and we battle against demonic forces. Read one of the most well-known passages in Scripture about demonic attack:  Ephesians 6:12, "For our struggle is not against flesh and blood, but against the rulers, against the powers, against the world forces of this darkness, against the spiritual forces of wickedness in the heavenly places."
Satan hates us because we belong to God, and he will do anything to thwart our purpose of glorifying God.
Know the signs of spiritual attack
Sometimes we might want to dismiss spiritual attack because it can look like such ordinary situations: a fight with a friend where you have a hard time forgiving; worry about your child getting sick a day before you leave to speak; writers block like you've never experienced—and you really need to finish writing so you can practice your talk! Distractions keeping you from prayer and preparation. And on and on.
When I am preparing for speaking or writing, I know I'm under attack when I experience insecurity, discouragement, or doubt (I wrote about doubt in last week's post—click here). These emotions usually come in the form of thoughts: What if I'm the worst speaker they've ever had? What if my writing submission gets rejected again? Why did I ever think I had anything unique or helpful to publish?
Maybe you can relate, as you experience these same attacks. Be on the lookout for other symptoms of attack: unforgiveness or bitterness; emotional upheaval with self, friends or family; sickness; relationship discord; fatigue; focus on self; difficult circumstances piling up at one time; disconnection from God and/or His people.
Because the enemy is a deceiver, we need to pray on a regular basis for the Holy Spirit to open our eyes to the enemy's schemes in these forms on any others.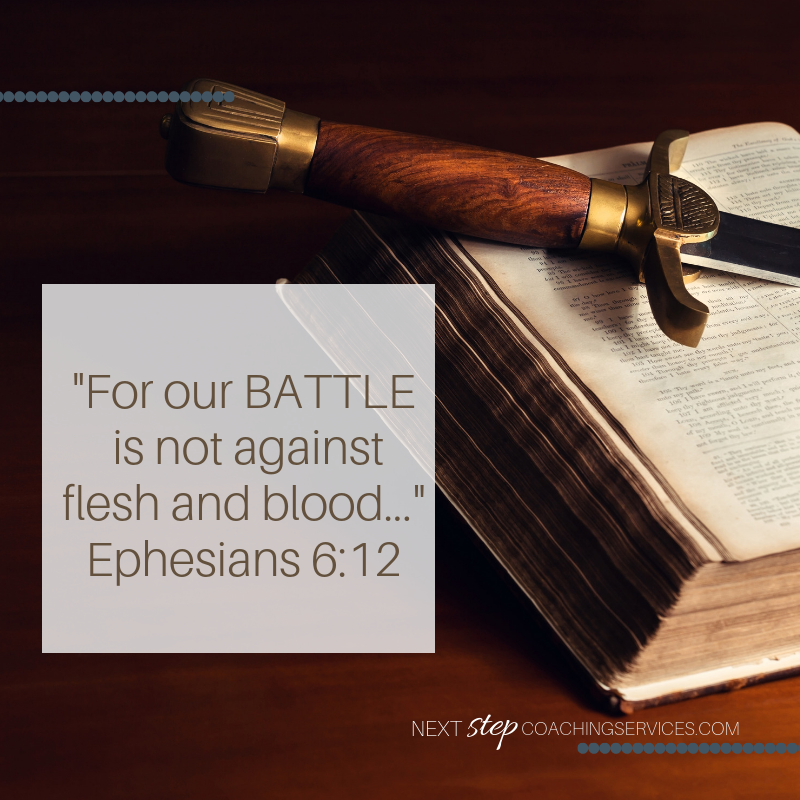 Know how to fight
We cannot fight evil on our own. While that's ultimately God's job, we cannot, however, be passive. God has equipped us for battle (see Ephesians 6:10-20). We must wield every weapon available to us, acknowledging without God's power we are not effective in the battle.
Prayer is my go-to weapon for attacking the enemy's schemes. I also ask my husband and a group of friends to pray for me when I feel the battle. The other most effective weapon is to speak the truth of God's Word—and I like to do this aloud. I also find it helpful to post reminder verses around my house and in my car. Because insecurity is often what I battle, I've memorized 2 Timothy 1:7, "For God has not given us a spirit of timidity, but of power and love and discipline."
Know where to focus
I'll give credit to my son for this last point. I asked him to share his thoughts about spiritual warfare, and I love how he got right to the heart of the matter:
"Mom, I think we just need to focus most on the Gospel and God's love."
Amen, sweet son.
 ~Melanie
I'd love to hear your thoughts on the subject of spiritual attack. What signs do you experience when you're under attack? What's your most powerful weapon?