Self Care Is Not Selfish When Submitted to God
Taking Good Care Series: Part 1
I'm not quite ready to go roaring into the new year with goals and activities and accomplishments.
I will get to that place.
But first I'm going to do this:
I'm going to take time to refresh. Or another way of putting it, I'm going to take time for some self-care.
What about you? What do you need right now? Do you want to join me in committing to self-care?
Self-care means taking care of our whole being – physically, mentally, emotionally, socially, and spiritually.
I'm not sure how you feel about self-care, but I can tell you how many Christian women feel about it based on statements like these:
I can't just sit around and do nothing all day. (said the friend with the flu)
If I don't stop moving, then I won't give in to how tired I am. (said the young mom who just worked hard to make the holiday season sparkly and magical for everyone else)
There's too much that needs to get done. I don't have time to take care of myself. (said the woman who is working from home and overseeing virtual learning for her kids)
Isn't self-care a bit selfish?
Ah…that last statement trips us up, doesn't it?
When we think of self-care we often think of self-indulgence. And that seems too self-focused and selfish for us Christians.
I understand that. I've been there but I'm not there anymore.
Here's what I've realized.
We are human beings. We have needs. We have limits. We are finite.
When we ignore our human-ness, we will likely find ourselves burnt out, overwhelmed, and unhealthy.
I've always loved the psalms, partially because of the honest and vulnerable expression of weakness, needs, and emotions.
We see this in Psalm 86:1-3, where David writes openly and passionately about his need:
"Bend down, O Lord, and hear my prayer; answer me, for I need your help."
King David is rawly honest about his need.
God invites us to be the same.
We live in a world that prizes self-sufficiency, strength, get-it-done attitudes. And, of course, there's a time and place for that.
But there's a time and place for our neediness, our limitations, and our weaknesses, too, as reflected in the above psalm and so many others.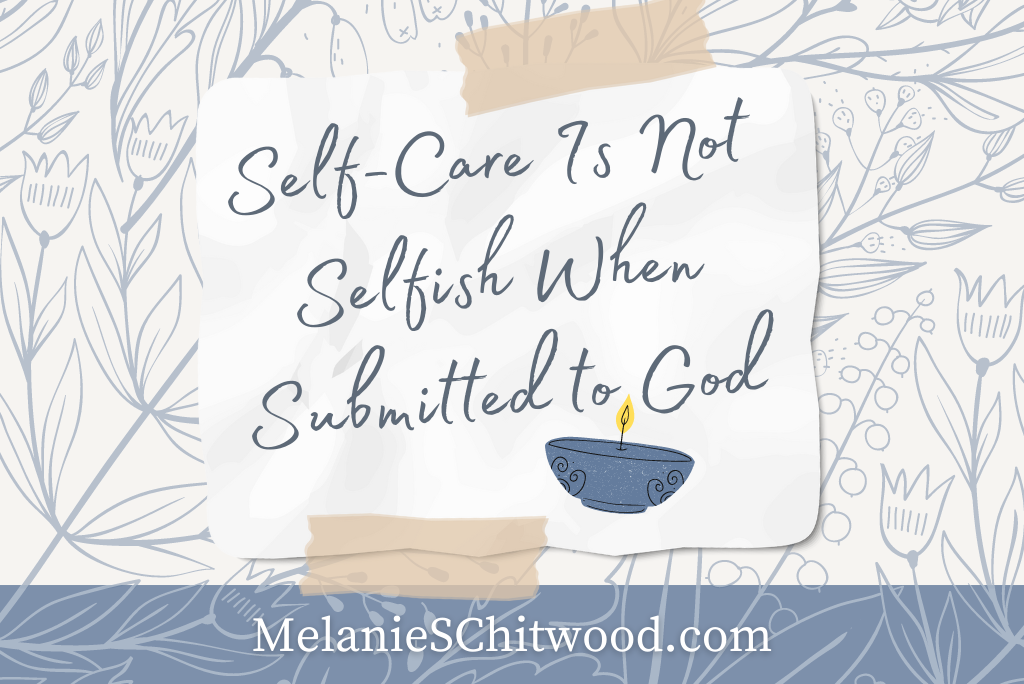 Approaching self-care prayerfully
So what if we took time to acknowledge our neediness before God? What if we told Him we don't want to be selfish with self-care, but we also want to honor our human-ness, with its limitations and with its needs.
When we ask God to lead us in self-care and submit our needs to Him, we can be certain that self-care is not selfish.
We need rest, we need moments of just being, not producing. We need nourishing food, we need laughter with friends, we need an escape from our anxiety and fears when we walk in the woods.
Here's a self-care challenge:
For the next four weeks, will you do at least one thing each week to take good care of yourself? It doesn't have to be long or expensive. It just needs to offer you refreshment.
Let's do a little brainstorming together. Think about what delights you, energizes you, and refreshes you. Maybe one of these soul-care ideas will resonate with you.
Light a candle and sit quietly while you journal your heart to God. (a daily practice for me)
Walk in the woods, by a lake, by the ocean, in the mountains.
Play with your fur-babies.
Laugh with friends.
Create – a painting, a craft, something to eat.
Play music/listen to music.
Stream a show or movie.
Read something.
Play a game.
Do a puzzle – that's one thing I always do in the winter months.
Work outside.
Turn off everything and just be.
Take a fast from social media.
Don't answer your phone for a time period
Connect with family and/or friends—or disconnect if this is what you need!
A little pampering – do your nails or get them done, a massage, go to the chiropractor, get your hair done, use a sauna or steam room.
Take a nap or sleep-in or go to bed early.
Sit by a fire.
Rock in a rocking chair.
A glass of wine or cocktail
A cup of tea or coffee.
Walk through a store and enjoy looking at pretty things. Don't have to buy. My favorite store to peruse—Barnes and Noble.
Action Points:
Pray for God to show you how to take good care of yourself in a way that refreshes you.
Do at least one self-care act each week, hopefully more, no matter how small or big.
Use these four gift-certificates to make it fun for you. Notice these have a timeframe with an expiration date. Notice they're from God. Embrace times of self-care as a gift from Someone who loves you so much.
Invite a friend to do the same thing and hold each other accountable to healthy self-care.
Connect with me on Facebook and Instagram and tell me or show me something you're doing to take good care of yourself. And/or leave a comment here.
Thanks for being here, friends!
Melanie