What to Do When Your Writing Direction Seems Unclear
Welcome, writing friends!
I've missed you!
If you've been a regular follower of Next Step Coaching Services with Amy Carroll and me, first let me say thank you!
If you've read the last couple of posts on Next Step, you know that my writing tips will now come from my personal website, MelanieSChitwood.com. (Amy's speaking tips newsletter will come from her website here)
Nothing will be different as far as the content and how often you receive these writing tips – writing tips once or twice per month.
What is new and different: I now have a personal blog at MelanieSChitwood.com, called Doing the Best We Can where I write about what I'm learning about grace and judgement and what God says.
This is a separate subscription from Melanie S. Chitwood Writing Tips, so if you want to follow my Doing the Best We Can blog, sign-up here. You'll receive posts from this blog once or twice per month.
Now, on to my post about what to do when your writing directions seems unclear.
I've started writing a book. I've written plenty of other things, like blog posts and devotions. But writing a full manuscript feels different. A couple months into writing, my direction seems muddy and unclear.
Have you ever experienced that?
If so, don't panic! This is normal! I've been here before, I've moved beyond the muddiness, and you can too!
Here's what to do:
Keep writing
Yep, just keep writing. Some days writing is fueled by inspiration. Other days you write out of obedience.
I'm a big believer in simply taking whatever the next step is.
Isaiah 31: 21 has always inspired me to take the next step of obedience, trusting that I'll hear from God when I obey: "Your ears will hear a word behind you, 'This is the way, walk in it,' whenever you turn to the right or to the left."
Some days you might feel unsure what you're going to write. That's okay. Just keep showing up. If you run out of things to write, start writing about what you did the day before or start writing out prayers of any kind, especially for your writing. Type out Scripture verses.
Writing something keeps you in the writing habit.
I promise you, eventually you'll figure out where your writing needs to go. That's what's happening now for me, but it's taken a lot of perseverance.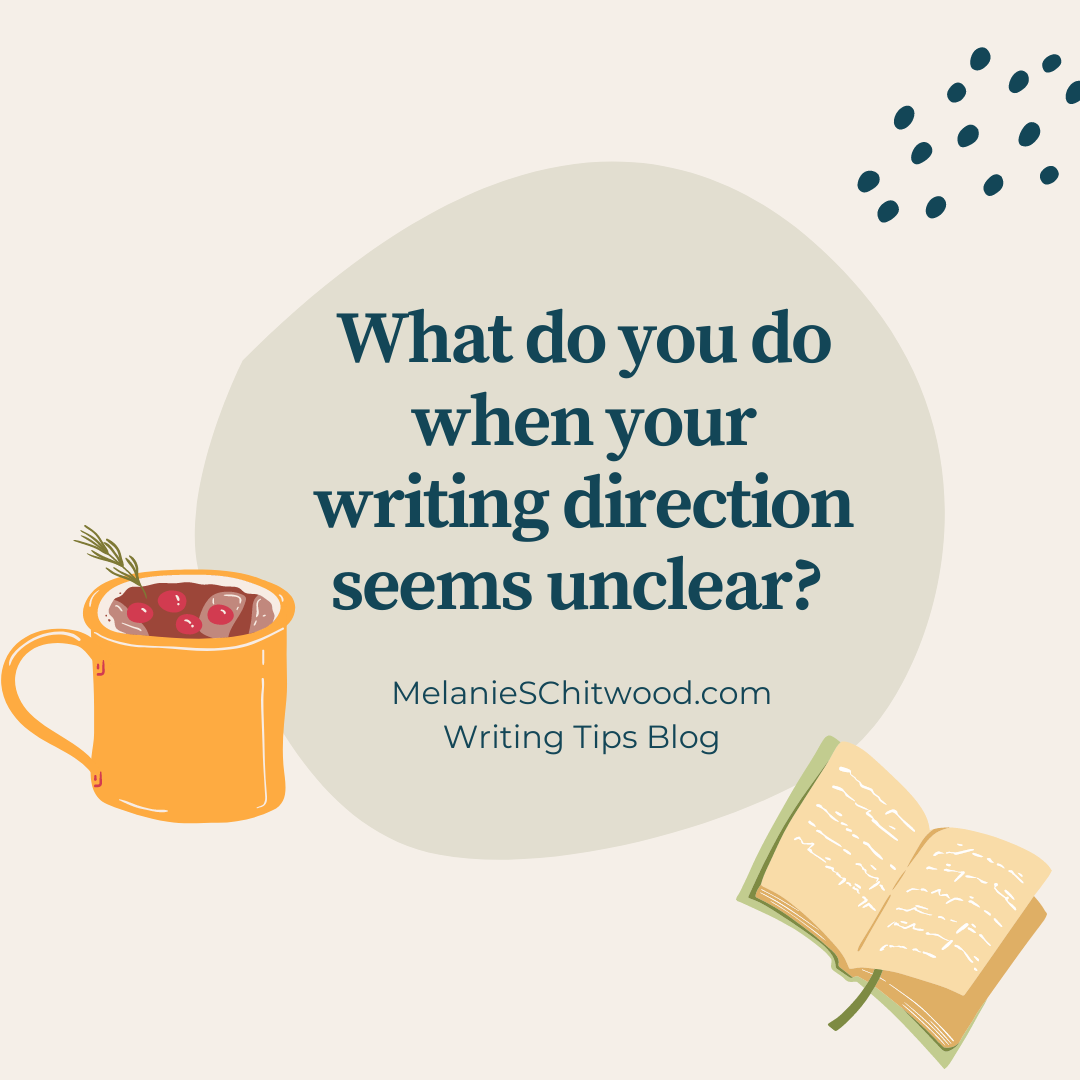 Keep refreshing
Sometimes you need to step away from your words for refreshment. It doesn't have to be something big – just something to get you out of your head for a bit. Walking the dogs, rocking on the front porch with hot tea, calling a friend. Simple moments like this can reset and refresh us on our writing journey.
Keep asking
Keep asking the Lord to guide and the Holy Spirit to inspire. In Matthew 7:7 we read, "Keep on asking, and you will receive what you ask for. Keep on seeking, and you will find. Keep on knocking, and the door will be opened to you."
The Lord knows you want to honor Him with your writing, and this is a prayer He wants to answer.
Keep remembering your why
Maybe you heard a soft whisper, or maybe you heard a loud, yes! But at some point you "knew that you knew" that God was calling you to write. Remembering why you're writing can motivate you.
Here are some possible whys:
To leave a story that can be your legacy to your friends and family
To share your expertise with your readers
To let readers know that you understand their pain or struggle and that God can meet them there
To show readers how God can bring them out of something and into something new
You might want to post your why somewhere visible. Let it motivate you.
Keep shining the Light
God asks us to be His light:
Matthew 5: 16, "Let your light shine before men in such a way that they may see your good works, and glorify your Father who is in heaven."
Writing is one way we can shine His light in a dark world.
Keep trusting
Christian writing can be filled with doubt and discouragement and joy and fulfillment. We don't need to freak out when the days or weeks aren't providing clarity. These days are part of the process.
Keep on keeping on. You and God will figure it out.
What helps you when you're experiencing lack of direction or clarity?
~Melanie