What Does Your Heart Long for?
What does your heart long for?
Is that a hard question to answer? Is it something you haven't thought about? Or haven't thought about in a long time?
If you're like most women I know, we don't spend a whole lot of time thinking about the longings of our heart.
I think one of the reasons we don't is that we Christians can believe a whole lot of lies about our longings, desires, and needs.
Here are a few that come to mind:
I'm selfish if I follow my heart's desire.
I should think of others first, not myself.
I don't have time (or energy or resources) to think about my heart's desire.
I understand.
When we love God, we want to do what He wants us to do. And you know what? We can do that – and follow our heart's desire!
We mistakently go to extremes and enter into either/or thinking.
EITHER I serve others OR I'm selfish and focus on my own longings and needs.
The truth: we can serve others AND pursue the desires of our hearts.
We can replace our EITHER/OR thinking with AND thinking.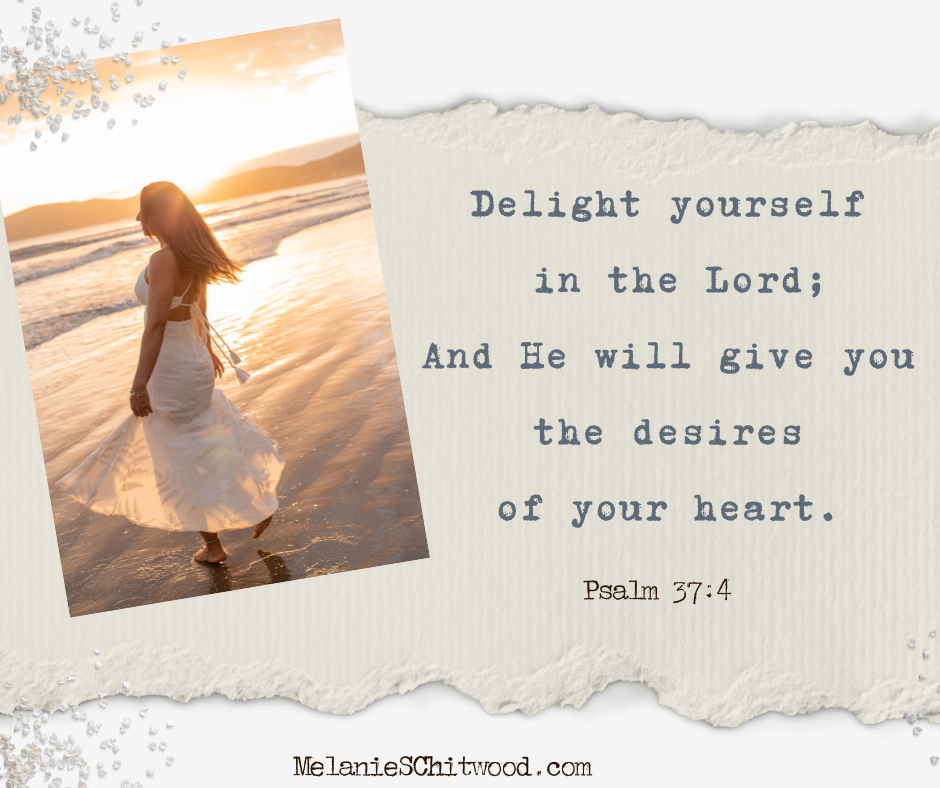 Read this beautiful verse as an invitation from God:
"Delight yourself in the Lord, and He will give you the desires of your heart " (Psalm 37:4).
Find your delight in Him, AND He's going to give you permission to follow your heart's desire.
See that word AND. It's not EITHER/OR!
This doesn't mean we treat God like a magic fairy. If He were, I'd ask Him to please make cake and frosting and chocolate chip cookies with no calories.
No, we are still submitted to Him, holding even our heart's desires loosely, and holding Him tightly.
Let's remember that God cares deeply for us. He's our good, good Father. I like to think about how much happiness I get from helping to make one of my children's heart's desire come true.
Let's consider that this is how our Heavenly Father feels about us. He sees us, loves us, and knows our heart's longing.
Here are a few examples of what following your heart's desire might look like:
One friend loves the beach, so she took a trip there by herself for a few days.
Another friend loves to be outside, reading her Bible and devotional, with her favorite view of the inlet. So she had a little mini retreat doing just that.
I was on a trip to Florida, a working trip so not much time to go to the ocean. But one night I did say no to others' invitation to go out, and instead spent one hour with my toes in the sand and ocean. (There seems to be a recurring theme of the beach!) I was energized and refreshed!
Or maybe something more long-term.
A friend left an office job and started her own staging business, after loving to decorate for years.
Another went back to school for a counseling degree.
I'm learning to search my heart, to see what longings are buried there, and bring them to the surface.
I hope you'll do the same.
This week why don't you do this: make a list of as many of your heart's longings as you think of. Don't be afraid. Just write them all down. Little things and big things. Then choose one and take steps to fufill that longing.
Thanks for being here, and take good care,
Melanie
Don't Miss Out!
Taking Good Care Giveaway!
I'm offering you ways to enter the contest multiple times, and the gifts I'm giving away will help you take good care of yourself.
The winner will receive these gifts worth $150:
$100 Massage Envy Gift Card
Biblical self-affirmation cards to display
Beautiful lined journal
Invitation to Retreat by Ruth Haley Barton
All the details you need for entering here or read below:
–Subscribe to my blog (this is the only requirement for entry. New subscribers will also get my free biblical self-care assessment to download immediately! If you are already a subscriber contact me!)
Bonus entries in Facebook and Instagram:
–Follow me on Instagram
–Follow me on Facebook
–Like my giveaway posts
–Tag a friend in the comments of the giveaway posts (1 per comment, please)
–Share a giveaway post to your Instagram or Facebook stories and TAG ME
Contest starts May 23rd and ends June 24th at 9 p.m. ET.
The winner will be chosen by random number generator. Winner will be tagged in comments on social media and notified by email. Winner is responsible for responding within 7 days with shipping information. If the winner does not respond in 7 days, is not in the contiguous U.S., or is not a blog subscriber, their gift will be forfeited and another winner chosen.
Contiguous U.S residents only