Has an Obstacle Blocked Your Ministry Goal?
My older son is getting married this year, so I decided to use this celebration as motivation to shed the fifteen extra pounds I've been carrying. I put some of my other responsibilities on the back-burner to allow time for working out at the gym, determined to lose the weight before the wedding.
Until I ran into an obstacle.
I tore my ACL. I won't even tell you how I did it because it's so silly. Disappointment, regret, and pain washed over me. I wanted to sit on the couch eating chocolate and feeling sorry for myself. Okay, maybe that's what I did for a few days.
What about you? Any obstacles in your life?
Think about your writing and speaking dreams. Has an obstacle prevented you from moving forward toward your ministry goal?
Maybe you can relate to one of these setbacks:
Your manuscript was rejected by publishers, so you've put it in a drawer and haven't written anything since then.
Speaking doors are not opening, or opportunities are coming slowly.
You look at your sprinkling of blog or social media followers and despair that no one seems to be reading what you spent so many hours crafting.
Your last speaking engagement didn't go so well and now you're questioning your calling.
You can rarely find time to write or to prepare for speaking engagements.
Something else? How have you responded to the obstacle?
After a couple of days of wallowing, I knew I could choose a different response. Instead of allowing the torn ACL to deter me from my goal of being 15 pounds skinnier, I decided to let this obstacle be the impetus for becoming healthier and fitter than ever.
Through physical therapy, I learned the exercises I could still perform with my injury, and I went to the gym and did those. Every day. Faithfully. Consistently.
No, I couldn't do the harder classes or run on the treadmill, as I had planned to do. But I could do something.
And you know what? My legs are stronger. And I've even lost a little weight.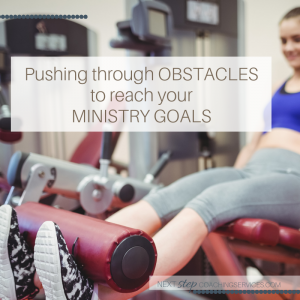 So back to those derailed dreams. If an obstacle derailed you, it doesn't have to continue to keep you from moving forward. Maybe today is the day to dust off your dreams. Take them out of the drawer. Allow your heart to soar a bit. Present your dreams to the Lord and see where He takes you.
Find encouragement and motivation in these verses to push through the obstacles keeping you from your ministry goals.
Psalm 18:19, "He brought me forth also into a broad place; He rescued me, because He delighted in me."
Psalm 21:2, "You have given him his heart's desire, and You have not withheld the request of his lips."
Psalm 21:7, "For the king trusts in the Lord, and through the lovingkindness of the Most High he will not be shaken."
If you want to share your name and the obstacle you're facing or just share your name, I'd love to pray for you. I'll be praying for you to find hope and determination to push through the obstacle to move forward with your ministry dreams.
You can do this!
~ Melanie