Join us for an interview with Amy Carroll about her new book, Exhale
At no extra cost to you, this post includes affiliate links to defray the cost of website maintenance. Click here to read full disclosures.
Just reading a few pages of the new book Exhale by Amy Carroll and Cheri Gregory makes me want to do just that: Take a big breath, followed by a big exhale!
The subtitle is a great summary of the journey Amy and Cheri take readers on in this book: Lose Who You're Not, Love Who You Are, Live Your One Life Well. They show you how "to lose ill-fitting roles" so that you can "live your one and only life in a way that you know truly matters."
Here are a few highlights from the book that stood out to me. Plus, you'll learn much more as you listen to our interview!
One of my favorite chapters about creating biblical boundaries is "You're Not a Country without Borders: So Draw Healthy Lines." (Isn't that a great chapter title?) After sharing a story about setting boundaries with one of her sons, Amy writes, "I've experienced a long, cleansing sigh of relief. The lines I drew left a blessed space in my emotions and my mind that used to be filled with the clutter of unreasonable expectations…. This is the delicious fruit of turning away from my first impulse to wash my hands clean by passively avoiding a problem, taking responsibility on myself instead of directing it where it belonged."
Reading this chapter gives us permission not to do it all — something most of us need to be reminded of — but instead to respond to the assignments only God gives us.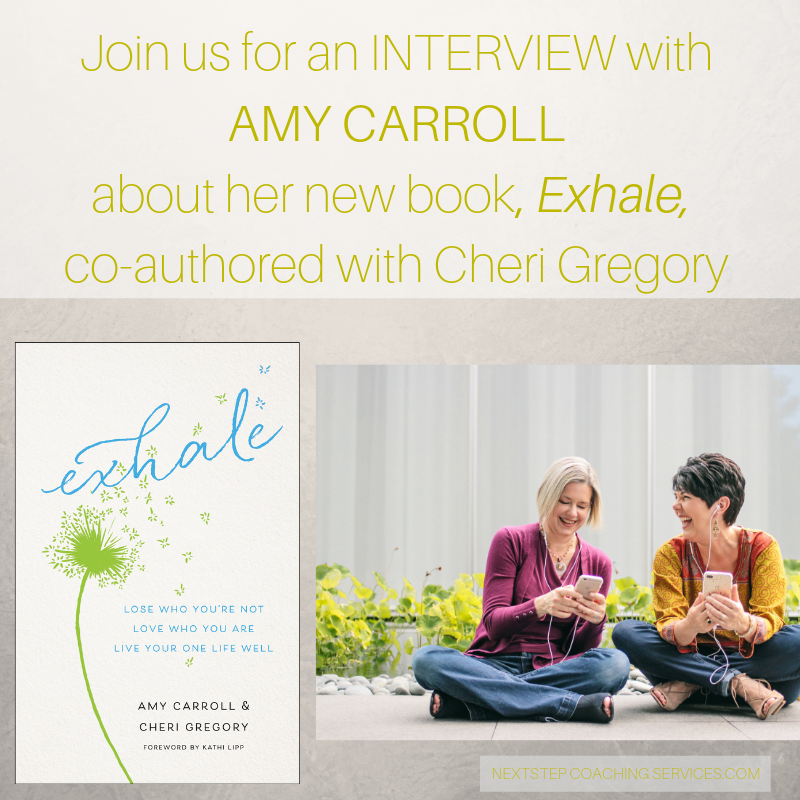 Another favorite chapter is "Live in Restoration: Delight Is Your Birthright." This is a vulnerable and honest chapter where Cheri writes, "Jesus, my Rescuer, invites me to take refuge in Him. I know how to receive rescue, but I've resisted refuge for so long– rescue, yes; refuge, no. But I need both….Deep restoration happens in the spacious place where God delights in you and you in Him."
What a welcome, life-giving message.
With unique perspectives and biblical truths, Exhale is a book to enjoy on your own, or better yet, with others so you can grow together.
Enjoy the interview with my amazing Next Step Coaching Services partner, Amy Carroll, to learn more about Exhale and about Amy and Cheri Gregory's co-authoring journey.
~ Melanie