The Power of Christian Fellowship to Transform
Fear of failure, insecurity, lack of confidence. After my black leotard failure, I typically hid who I was because I was afraid I wouldn't measure up.
But then a year later in high school I would discover the power of Christian fellowship to transform when I started being a part of Young Life, a nondenominational high school ministry.
Young Life leader Ron showed up at high school events, and he and his wife Catherine pursued getting to know us high schoolers. They invited us to hang out at Pizza Hut after high school games. There was always laughter and the magical feeling that they truly enjoyed being with us.
Soon YL Club, the weekly high energy meeting, would be the night of the week I looked forward to the most. Then when I was sixteen years old, I sat on a rock under a starry sky at Young Life camp Windy Gap, where I acknowledged that I wanted Jesus to be the Lord of my life.
After that, Young Life's weekly Bible study, called Campaigners, became the night where I learned how to be in a relationship with Christ and with others who were seeking Him.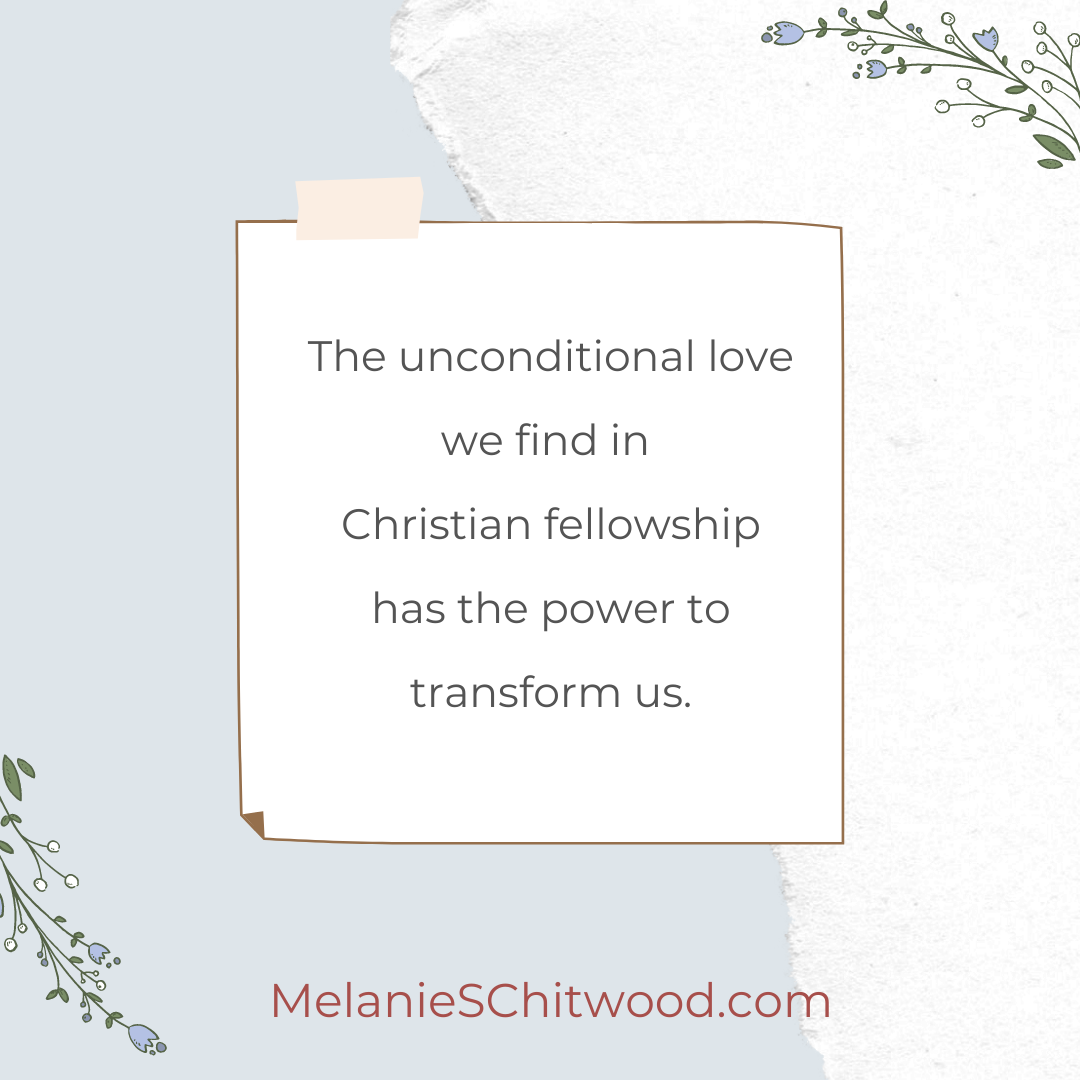 This was my first taste of community with other believers. Led by Catherine, week after week she fed us taco salad and listened to our prayer requests. Each time she wrote down our prayers about our boyfriends and friends and dogs, she was writing in our hearts how much God loved us.
Week after week the love I found in this group was the reflection of God's love I didn't even know I needed.
In our Bible study I was seen, known, accepted, and loved unconditionally.
And my soul soaked it up like the thirstiest of girls.
We were learning the power of Christian fellowship. We were learning that when we loved each other, we were sharing God's love. We were learning when we are loved by God, often reflected in love from others, we are transformed from insecure and unsure to steady and sure in God's love.
From this point forward, Christian fellowship would be a powerful force in every season of my life. It's given me the support, acceptance, and love I've needed to grow into the person God created me to be.
What about you? Are you a part of a group providing Christian fellowship? Do you meet regularly with a group of believers who are seeking to know God and to let His love change you?
Here's what I've found to be true about Christian fellowship:
Seek fellowship.
When my husband Scott and I started going to a new church after moving to Charlotte, NC, we knew no one. But we knew we wanted our lives to be shaped by God and those who love Him.
Was it easy to go to church where we knew no one? Nope. But we did it week after week. Often, because I had a traveling husband at the time, I went to church by myself. And the friendships I forged then are still some of my closest friends now.
Seeking Christian fellowship is a choice we have to be purposeful about. It might feel uncomfortable or inconvenient sometimes. But it's a life-changing decision.
Create fellowship.
If you can't find a Bible study or small group, sometimes you have to create your own. It doesn't have to be anything complicated or fancy. Just ask some people to meet with you and look at a book of the Bible together and pray for each other.
Give it another chance.
Chances are you've been hurt by a Christian group. I'm so sorry if that was your experience. I understand how hard it can be to want to try again.
But can I encourage you to do just that? Talk to God about your hurt, and ask Him to give you just one friend to meet with, a friend that you can trust to love you with Christ's love.
God designed us to be in relationship with other believers. That's one of the most profound and transforming ways we experience His love.
Thank you for being here, sweet friends.
~ Melanie
P. S. And just because it's fun to tell you this, my Young Life leaders, Catherine and Ron, are still some of my best friends, forty years later.
I have a new website: MelanieSChitwood.com
To clarify, I have two separate blog subscriptions.
If you want to subscribe to my personal blog, Doing the Best We Can, you'll find that here: https://melanieschitwood.com/blog/
If you want to subscribe to my Writing Tips Blog, you'll find that here:https://melanieschitwood.com/tips/ (These tips were formerly found on Next Step Coaching Services)
One more thing: Don't miss out on my holiday season sale on my workbooks. Find those here. My devotion writing workbook is only $9.99, and my writing with Scripture workbook is only $7.99! Find those here: https://melanieschitwood.com/books/